Pre-cut Pallet Lumber | Pallet Boards | Pre-Cut Pallet Stock
We thought it would be selfish to keep our pre-cut pallet lumber and pallet stock all to ourselves. At Troymill, we're happy to provide high quality Hardwood and Pine Pallet Stock to the Pallet and Wood-Packaging Industry. With both bandsaws and gang saws, Troymill can make nearly any cut you can think of. We're happy to provide material by the unit or the truckload – no order is too large! Come take advantage of our state-of-the-art cutting facility!
Reliable source of high quality pallet pre-cut
Runner/Stringer stock from 7/8″ to 8″ thick (typical sizes are 1-1/8, 1-1/4, 1-3/8)
Low-Profile Runners (1 x 2-1/2) available as well
Board stock from 3/8″ and up
We can cut any size you need – don't be shy – give us a call!
Large and small volume orders
Here's What to Know About Pallet Boards
When it comes to ordering shipping boards for your operations, it's important to know that there are two main types: lumber pallet boards and plastic shipping boards. While the use of plastic has risen in the past several decades, pallet boards have remained the preferred choice for shipping and product transportation. When crafted well, this pre-cut pallet lumber is a strong and sturdy shipping container. That's why millions of businesses rely on hardwood pallets every day as part of their shipping and handling operations.
Pallet boards, also called pallet stock or pallet planks, are made from lumber that is cut, shaped, and finished in order to act as a shipping container. Because these pallet boards are used to transport heavy loads, the lumber needs to be high quality. It's a misconception that pallet stock lumber is "scrap" wood. In fact, it's much the opposite. Pallet lumber needs to be sturdy and up to the task of carrying heavy loads.
If you've considered using pre-cut pallet lumber boards, you're making a smart choice. But why the aversion to plastic boards versus lumber?
Plastic Pallets VS Hardwood Pallets
Both plastic pallets and hardwood pallets are used as viable shipping board mechanisms. But there are benefits to using wooden pallets that often get overlooked due to the rise in plastic products elsewhere. 
Price
For starters, wooden pallets are less expensive than plastic pallets, particularly when you buy in bulk, wholesale pallets. This is not only a way to save money up front, but it's also smart if you ship overseas often. Whether you use pine pallets or other types of hardwood pallets, an overseas shipment means you won't get the pallet back. This is less of a problem if you're using pallet planks made from wood that you can replace for less money.  
Reusability 
Wooden pallet boards are fully recyclable and biodegradable, which makes them a great choice for sustainability. Plastic, though it has many uses today, is not biodegradable which means that plastic waste can build up and cause environmental damage. With pre-cut lumber pallet planks, you can rest assured that the boards aren't causing waste build up.
Capacity
If you have large shipments and need pallet boards to accommodate the weight, hardwood pallets are a great choice. When compared to plastic pallets, wooden pallets are generally able to carry heavier loads, which means you can trust that the shipment will be transported safely.
When you choose Troymill for pallet boards for sale, you can further customize the boards to fit your needs. We can craft nearly any cut you need, and we are happy to provide material by the truck load so you can utilize pallet boards for your specific application.
Lumber Grades
If you are buying pallet boards for the first time, or are new to the pallet wood material industry, you might not be as familiar with lumber grades.  
The lumber grading system categorizes pallet lumber as "low-grade," which is not synonymous with low quality. Low grade means that the lumber comes from the core of the tree, compared to lumber from the outer layers of the tree. When lumber is cut from the outside of a tree it's considered high grade because it looks more clear and has less blemishes. But, that doesn't mean it's higher quality.
Lumber grades are based on appearance. How smooth is the lumber? Does it have knots or imperfections on the surface? Depending on the answers to these questions, the lumber grade will go up or down. When it comes to buying pallet boards for sale, lumber grade should not be your concern because it's not reflective of the quality of wood. What should matter is that the pallet boards meet your weight requirements and other specifications, and that they are designed to last.
Material Choice for Pallet Boards
Here at Troymill, we provide hardwood and pine pallets stock to various industries. We use these materials because we trust in their longevity as pallet planks. As mentioned, we can customize almost any shape and size for pallet wood material. So if you're wondering "Where to get wood cut to size near me?" or "Where to get pallet boards?", we can help.
Hardwood pallets
By definition, hardwood is wood from dicot trees. Dicot trees are those found in tropical forests or in broad-leaved temperament areas. Some common hardwood species include the white oak, maple, and walnut trees.
When it comes to manufacturing pallet boards near me, hardwood is a stand-out choice. Hardwood, per its name, has a higher density than other types of wood which means it can undergo tough conditions without breaking down quickly. It also has a higher loading capacity using less material, because it is so dense. So, if you need new wood pallets for sale that can handle heavy loads, hardwood pallets are a great option.
The density and strength of hardwood pallet boards means that they are heavier, so keep that in mind if you are considering purchasing hardwood pallets for your operations.
Pine Pallets
Troymill also works with pine pallet wood material. Pine pallets are another great option for pallet boards thanks to their abundance. Pine is a plentiful wood and is also easy to cut and process, which means that this pallet stock will come at a relatively low cost.
In addition, pine pallets are lighter than hardwood pallets, which may be an advantage for your business or operations depending on the industry you work in. Some also prefer pine pallets because they are arguably better for the environment, due to the fact that pine trees grow in abundance. If pine seems like the right material for you, talk to Troymill about our pallet material for sale.
Pallet Design and Specification
As mentioned, Troymill is confident in our ability to customize our bulk pallet wood to fit our customers' needs. We offer cutting-edge design solutions for all pallet requirements. All we need from you is the size of the platform, weight capacity, and type of functionality. From there, we can use our tools, experience, and skills to produce customized pallet boards. That's our promise as a top wood pallet supplier near me.
The Troymill Pallet Board Design System
We use the Pallet Design System (PDS) for all of our pallet board specifications. The PDS is an innovative software that combines engineering, design, marketing, and education into one system. It's a complete package for Troymill as it enables us to complete and perfect our pallet boards near me.
In terms of pallet design, the PDS allows our team to completely customize the pallet type, size, and style using the provided dimensions. Then, we can work with 2D and 3D drawings to perfect the pallet planks in the design phase before we get to work. The PDS also works as an engineering tool that calculates the weight of loads that will be placed on the pallet, and determines how the weight will be distributed. This feature can compare different pallet designs, wood types, and dimensions to ensure loading and unloading safety.
Having innovative software like the PDS allows Troymill to lead in the industry as a supplier of wholesale pallet cut parts, pallet stock lumber, and more.
ISPM-15 Heat Treating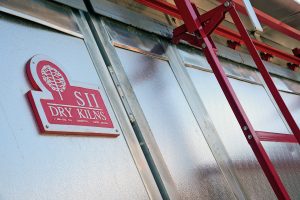 In addition to our use of the PDS software, Troymill also sets itself apart thanks to our heat treating capabilities for pre-cut lumber and other products. In fact, Troymill was one of the first companies in the Midwest whose pallet manufacturing met the International Standards for Phytosanitary Measures 15 (ISPM) for the sterilization of new and used pallets.
In the field of pallet stock lumber, rules and regulations are constantly changing. Specifically, pallet boards fall under the category of packaging material and transportation equipment, which means regulations are especially rigid and need to be followed. This includes items like pallet boards, containers, and other wooden packaging supplies. That's why Troymill heat treats our pallet boards in accordance with the standards, which we then confirm with a Troymill Heat Treatment Stamp. The treatment and the ink used for the stamp meet the requirements for the ISPM 15. With Troymill, you can trust you're getting the safest and best pre-cut pallet lumber in the industry.
Find Pallet Boards to Add to Your Inventory Today
Now that you know where to buy wood cut to size, you can connect with our pallet material suppliers today. It's important to know your loading weight requirements, as well as the dimensions that you'll need for your pallet boards beforehand. That way, we can take this information and meet your expectations.
Troymill offers a wide range of services in the lumber and pallet industry. If your project requires specific cutting and detailed craftsmanship, we are the team for the job. You can count on us as leading ISPM 15 wood suppliers near me.
Frequently Asked Questions
#1 What is the minimum order amount? 

The minimum order amount is dependent on size. 5,000 to 10,000 is typical.

What sizes do you cut?

Thickness = 7/16" to 4"

Width = 1-1.5" to 6"

Length = 24" to 192"

What species do you offer?

We offer mixed hardwood, aspen, SPF, and SYP.

Do you provide ISPM-15 Heat Treatment?

Do you ship out of the United States?

Do you sell to the public?
About Troymill Wood Products | Pallet Boards for Sale
Troymill Wood Products is a leading manufacturer of pallet lumber and pallet stock that meets and exceeds customer expectations. We are located in the heart of the Amish community of Middlefield, OH, and we are proud to provide an outstanding inventory that includes hardwood, yellow pine, and spruce lumber.
Our facility covers nearly 50 acres of land, which gives us the space and flexibility to work with raw materials to create pine pallets, wholesale pallet cut parts, crates, grooved stock, and so much more. Our business model is centered around having a constant, uninterrupted supply of product even during lumber shortages. That means our customers can rely on our price stability for our pallet boards and other products when other manufacturers can't deliver.
We take pride in our role as pallet material suppliers. Our quality materials combine with our hardworking team and unmatched craftsmanship to create products that stand out. Because of our skillset, we've been able to build lasting relationships with our customers, suppliers, and employees. When you need pallet boards and pre-cut lumber products of top-notch quality, count on Troymill.