Choosing The Right Pallet Company vs Other Pallet Companies
The Use For Pallet Companies
If your business's shipping operation relies on pallets, you know the importance of choosing a reputable and trustworthy pallet supplier. Without the right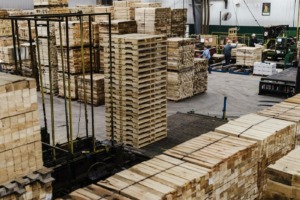 partner, your goods might arrive late or damaged, or worse, not at all. There are thousands of wooden pallet suppliers and manufacturers in the United States, and choosing the right one can be a difficult task. Other pallet companies may take underestimate their role in the supply chain, but the shipping pallet and the pallet companies that make them are more critical than ever.
When choosing your pallet company, be sure to research the type of pallet that pallet particular company specializes in. There are several different types of wood pallets, and not all pallet companies are the same. The variety of pallets produced by pallet companies include block and stringer pallets, refurbished pallets, combination pallets, skids and sheet pallets. Troymill is one of the largest producers of the most commonly produced and purchased pallet – the wholesale wooden pallet. However, products that are difficult to ship or unique in size or shape often require custom wooden pallets. Chances are, that whatever you are looking for, there are plenty of pallet suppliers who can provide you with the pallets you need. However, not all pallet companies are equal and it's important to consider your options carefully before purchasing. While price is always a consideration in any business's supply chain, there are other factors that should play into your choice of a pallet supplier.
Start with a Needs Assessment
What are you shipping? This sounds like a very basic question, but it's important to consider. How large are your shipments? How much does the material you're putting on your pallet weigh? Does your pallet need to Heat Treated? Troymill is one of several pallet companies that provides ISPM-15 and HT services on-site.
Other questions to ask – do you need a larger-than-standard pallet? Are you going to use your pallet more than once? Some loads require hardwood pallets while others can get away with softwood. How susceptible to damage are your shipments? You might need custom pallets that offer extra protection against in-transit damage.
Thinking about what you are shipping now and what you will be shipping in the future will help you choose a pallet company that will meet all of your needs.
Choose a Pallet Type
But for a few industries, such as pharmaceuticals and food, wood pallets are standard. This is because they are relatively inexpensive and have a smaller environmental impact than plastic or metal pallets, as wood is the only 100 percent renewable, recyclable and reusable pallet material available.
There are more than 1.8 billion pallets in service in the U.S. every day, and millions more used to ship products overseas, according to the National Wooden Pallet & Container Association. Ninety-three percent of these pallets are wood. The organization says that every year, more than $400 billion worth of American trade is exported on wooden pallets, crates, or other containers.
Wholesale pallets generally fall under two categories: stringer pallets and block pallets. Stringer pallets are the most commonly used type in the U.S. and are therefore easy to find. Stringer pallets can be cut either two-way (front and rear forklift entry) or built with notches for four-way entry.
The other common type of wholesale pallet is the block pallet. A block pallet gets its name from the blocks that form its base. Block pallets are supported by blocks of wood on the sides and the middles of each edge. These typically provide more support than stringer pallets, although at a higher cost.
Full-service pallet manufacturers such as Troymill Wood Products offer block and stringer types as well as other pallets wholesale and in very large quantities, as well as custom pallets.
Consider Custom Pallets
Think wholesale pallets aren't up to the job of getting your goods from point A to point B? A good pallet manufacturer will help you assess what kind of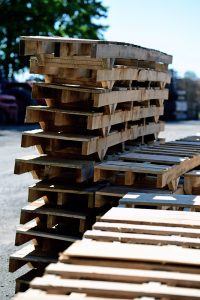 pallet you need and design the perfect custom pallet to fit your product and accommodate your supply chain.
In creating a custom pallet design and choosing materials, full-service pallet companies such as Troymill will take several factors into consideration: Product weight and weight distribution, shape, fragility of the goods and need for padding or securing materials, mode of transport, final destination (U.S. or international), and cost and budget.
Supplier Capacity
Finding the right pallet won't help you if your supplier can't meet your demand or cannot deliver your pallets on schedule. When choosing a pallet supplier, ask them about:
Their own supply chain/past wood shortages
Labor problems
Contingency plans for natural disasters, plant closures
Over-promising more products than they can deliver
Customer Service
While the largest pallet companies might have great prices, there is a downside to the big suppliers: Their approach can be cookie-cutter and the service impersonal. While you might have a dedicated salesperson for your initial purchase, when problems or changes arise, you could get lost in the customer service shuffle.
On the other hand, a small manufacturer might deliver the personal service you like, but not be able to keep up with your volume demands.
Working with a medium-sized regional supplier is a "just-right" solution. Companies like Troymill, which serves Ohio and its surrounding states as well as Illinois and New York, provide the assurance of adequate supply, reasonable prices, and personal service. You will have a dedicated account manager who will follow your orders throughout the fulfillment process and will be accessible when you have a problem or a question.
Distance From Supplier
Choosing a local or regional pallet company also means your pallets have less distance to travel from the manufacturing facility to your loading dock. This reduces shipping costs as well as the potential for delays.
On-Time Delivery
Late pallet shipments can mean your orders go out late, which is unacceptable for everyone. Before choosing a pallet company, ask them about their on-time delivery rates and compare companies' performance in this area. If they don't track this figure–well, that's a red flag in itself.
If your business ships, chances are you need pallets. Finding the right supplier is critical in making certain your customers receive their products on time and undamaged.
Reach out to Troymill today to let us help you find the right pallets, crates, and other wooden shipping containers that will fit your budget and your needs.